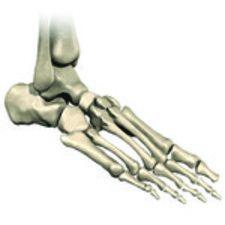 Sustaining an injury to one of your ankles can be a painful experience. Even worse, an injured ankle can prevent you from getting around your house or your yard, driving to work, or doing the things you enjoy and even need to do on a daily basis. Some ankle conditions are not the result of a direct injury, however. For example, you may experience a gradually increasing pain in your ankles due to arthritis or another degenerative condition, and this could be making it more difficult for you to run, dance, or generally move around. If you've been dealing with this kind of debilitating pain in one or both of your ankles, it may be time for you to consider the possibility of total ankle replacement in South Jersey.
The doctors at
Rothman Orthopaedic Institute
take a conservative approach to ankle treatment, and non-surgical methods are used to treat a damaged ankle before a recommendation is made for total ankle replacement in South Jersey. For many Rothman patients, however, surgical procedures are an inevitable necessity, with replacement of the ankle joint sometimes being the best option for long-term restoration of joint function. Also known as an ankle arthroplasty, this procedure involves removing both sides of the ankle and replacing them with prostheses made of titanium and a medical-grade plastic. After recovering from this procedure, patients benefit from several significant results of the procedure, including relief from pain, increased mobility, and better coordination of the foot and leg.
Total Ankle Replacement in South Jersey at Rothman Orthopaedic Institute
Although most individuals who need ankle replacement surgery are older patients, younger patients may also be good candidates for this procedure - especially those who have sustained repeated ankle injuries. The patient's overall health, weight, and lifestyle will have an impact on the results of an ankle surgery, but most patients who receive ankle replacements can expect the prosthesis to last for ten to twenty years. It is a relatively simple operation, and patients at Rothman Orthopaedic Institute typically have a short and smooth recovery.