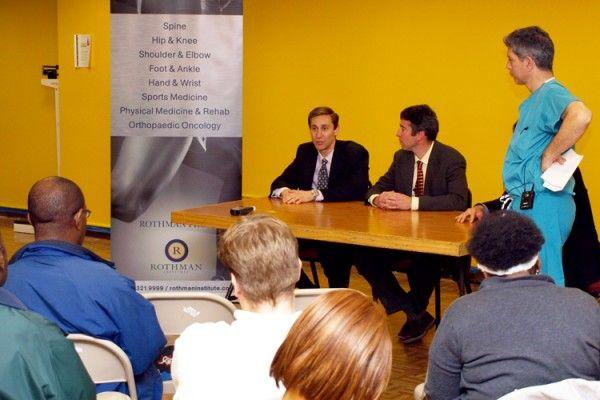 In July, Jefferson University Hospital spine surgeon Alexander Vaccaro threw in his contribution to Philly.com's One Great Idea initiative - a medical town hall meeting, where Philadelphians can ask a panel of doctors anything, cost- and appointment-free.
His idea became a reality Thursday, when Vaccaro and three other doctors tackled questions from 30 people for an hour and a half in a brightly colored room of North Philadelphia's YouthBuild charter school.
The intimate event gave Vaccaro, also vice chairman of the department of orthopedic surgery at the Rothman Orthopaedic Institute, a snapshot of the health issues Philadelphians care about: obesity, diet, high blood pressure, their children's well-being, and teen pregnancy.
The panel included Jefferson internist Adam Sobel, pediatrician Daniel Taylor of St. Christopher's Hospital for Children, and Temple University Hospital vascular surgeon Eric Choi.
Read more about the event and the advice the panel gave by click here.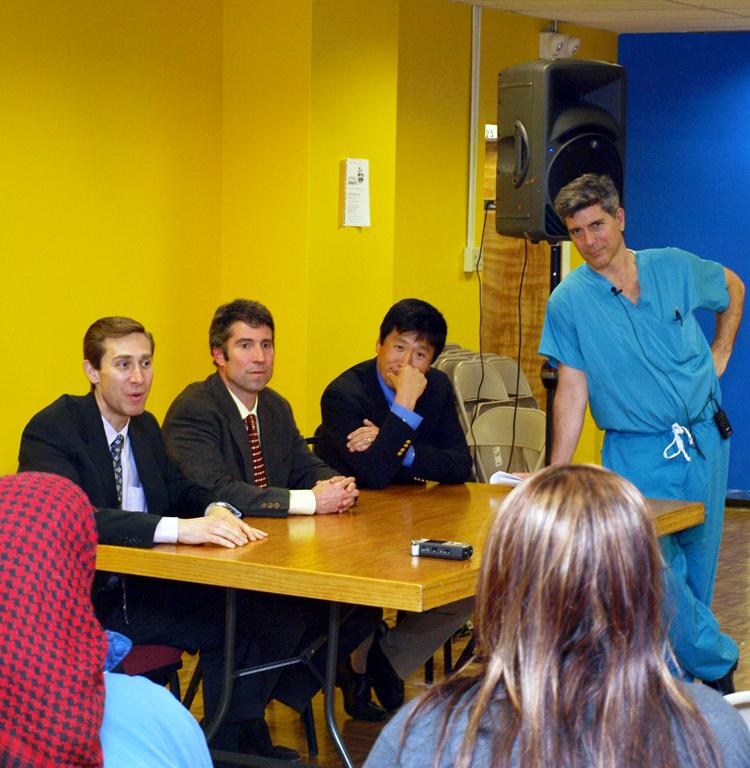 Related Physicians
All Specialties
Hip
Knee
Spine
Sports Medicine
Shoulder & Elbow
Foot & Ankle
Hand & Wrist
Physical Medicine & Rehabilitation
Orthopaedic Oncology
Orthopaedic Trauma & Fracture Care
General Orthopaedics
Physician Language
All Languages
Spanish
English
Persian
Korean
Arabic
Italian
Swedish
Chinese
German
Hindi
Gujarati
Punjabi
Turkish
Tamil
Filter Physicians
Filter
Sort
All Specialties
Hip
Knee
Spine
Sports Medicine
Shoulder & Elbow
Foot & Ankle
Hand & Wrist
Physical Medicine & Rehabilitation
Orthopaedic Oncology
Orthopaedic Trauma & Fracture Care
General Orthopaedics
All Languages
Spanish
English
Persian
Korean
Arabic
Italian
Swedish
Chinese
German
Hindi
Gujarati
Punjabi
Turkish
Tamil
Greater Philadelphia
All Locations

{{item.title}}

{{distanceText(item)}}