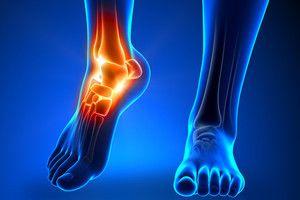 If you or someone you love has been diagnosed with Achilles tendonitis, you may have a number of questions. Although Achilles tendonitis is a common overuse injury, recently diagnosed patients should take the time to gather all the facts about their condition and treatment options. You may be asking yourself, where has the best physicians for Achilles pain tendonitis and how can they help? Fortunately, the team of physicians at Rothman Orthopaedic Institute can help you take charge of your condition and your treatment.
Who Is At Risk For Achilles Tendonitis?
Achilles tendonitis is most common among middle-aged recreational athletes. Because this condition is considered an overuse injury, it occurs more often in those who participate in athletic activities without practicing regular stretching or strength building exercises to ensure the health of the Achilles tendon. If you are a middle-aged recreational athlete, it is important to learn good preventive practices to reduce your risk of developing Achilles tendonitis.
What Is Achilles Tendonitis?
The Achilles tendon is a strong, fibrous cord that connects the muscles in the back of your calf to your heel bone. It is responsible for your ability to push off of the ankle. Achilles tendonitis, an overuse injury, refers to the inflammation and irritation of this tendon.
Common symptoms of Achilles tendonitis include pain and swelling at the heel, as well as the sensation of tightness in the ankle and foot. Limited range of motion when flexing the foot is another common symptom. Typically, these symptoms will worsen after the patient participates in physical activity, including walking.
When Should I Seek Medical Help?
If you are experiencing symptoms like those listed above, it is important to make an appointment with your physician as soon as possible. Although Achilles tendonitis is a highly treatable condition, it is important to receive an accurate diagnosis and to develop a treatment plan with a medical professional early on.

Where Has The Best Physicians For Achilles Pain Tendonitis?
If you do find yourself exhibiting symptoms that could be Achilles tendonitis, it is important to take the time to find out where has the best physicians for Achilles pain tendonitis. If you live in the Philadelphia or South Jersey areas, you don't have to look far for outstanding resources and services. Rothman Orthopaedic Institute is a worldwide leader in orthopaedics, integrating researched-based methods into patient treatments. Our team is made up of highly experienced specialists who have focused their training and practice in this particular area of orthopaedics.

Why Does Early Intervention Matter?
After you have figured out where has the best physicians for Achilles pain tendonitis close to your home, it is important to seek help as soon as possible. Although Achilles tendonitis can usually be effectively treated through non-surgical options including rest, icing, shoe inserts, and physical therapy, ongoing or repeated injuries can lead to degeneration within the tendon. This degeneration, in turn, places you at a higher risk for an Achilles tendon rupture, a more serious condition.
How Can I Prevent Achilles Tendonitis?
Ultimately, the best treatment for Achilles tendonitis is prevention. Stretching the Achilles tendon prior to exercise, as well as at the start of the day, will help to maintain your ankle flexibility. This can keep your tendon healthy and reduce the risk of inflammation or tears. Additionally, wearing properly-fitted footwear, including shoe inserts if necessary, can help to reduce the risk and recurrence of this condition.
If you would like more information about Achilles tendonitis, or would like to make an appointment, please contact us today at 1.800.321.9999.
Related Specialties
Related Physicians
All Specialties
Hip
Knee
Spine
Sports Medicine
Shoulder & Elbow
Foot & Ankle
Hand & Wrist
Physical Medicine & Rehabilitation
Orthopaedic Oncology
Orthopaedic Trauma & Fracture Care
General Orthopaedics
Physician Language
All Languages
Spanish
English
Persian
Korean
Arabic
Italian
Swedish
Chinese
German
Hindi
Gujarati
Turkish
Tamil
Mandarin
Taiwanese
Telugu
Punjabi
Filter Physicians
Filter
Sort
All Specialties
Hip
Knee
Spine
Sports Medicine
Shoulder & Elbow
Foot & Ankle
Hand & Wrist
Physical Medicine & Rehabilitation
Orthopaedic Oncology
Orthopaedic Trauma & Fracture Care
General Orthopaedics
All Languages
Spanish
English
Persian
Korean
Arabic
Italian
Swedish
Chinese
German
Hindi
Gujarati
Turkish
Tamil
Mandarin
Taiwanese
Telugu
Punjabi
Greater Philadelphia
All Locations

{{item.title}}

{{distanceText(item)}}