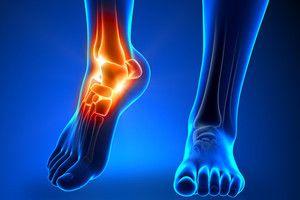 If you are or someone you love is suffering from the pain of Achilles tendonitis, you may have questions about your condition. What exactly is Achilles tendonitis? What treatment options are available and which is the best Achilles pain tendonitis procedure for me? Where can I turn for the help I need? At Rothman Orthopaedic Institute, we hear these familiar questions from patients in your condition on a regular basis. Although it is still imperative that you make an appointment with a doctor or orthopaedic specialist as soon as possible, we hope that these answers can provide you some reassurance and direction as you seek out the evaluation and treatment you need.
What Is Achilles Tendonitis?
The Achilles tendon, located behind the ankle, connects the heel of the foot to the calf muscles. It is responsible for the pushing off motion of the ankle. Achilles tendonitis is primarily characterized by inflammation (pain and swelling) and irritation of this tendon. Often, this condition results from overuse of the tendon and is a common injury in middle-aged recreational athletes. With early management of this condition, patients are often able to make a full recovery and return to the activities they enjoy. However, if this injury is repeated or left untreated, it can eventually lead to a series of tears within the Achilles tendon, which in turn makes it susceptible to rupture.
What Treatment Options Are Available?
There are a number of treatment options available for Achilles tendonitis. In most cases, this condition can be treated without surgery. Often, this non-operative treatment is made up of some combination of the following options:
Rest allows the inflammation to subside, promoting healing
Immobilization with a boot or cast may be used to ensure rest in more severe situations
Heel Wedges, Arch Supports, or Custom Orthotics can minimize stress on the tendon in athletic and work shoes
Ice will stimulate healing blood flow and reduce the pain of inflammation
Anti-Inflammatory Medications can help to control the pain and swelling of tendonitis
Physical Therapy helps to improve stretching techniques and flexibility in the Achilles tendon
However, in some cases in which the tendonitis has recurred, surgery may be necessary. Such a procedure would be used to repair damaged parts of the tendon, preventing a full rupture in the future.
Which Is The Best Achilles Pain Tendonitis Procedure?
Of course, for anyone wondering which is the best Achilles pain tendonitis procedure, the answer is prevention. Stretching the Achilles tendon at the beginning of the day, and then again before exercise, will help to maintain vital flexibility in the ankle. Additionally, ensuring properly fitting footwear through heel cups or arch supports is also an important preventive step to take.
However, if you are already suffering from the pain of Achilles tendonitis, you are probably wondering which is the best Achilles pain tendonitis procedure to treat your existing condition. For this answer, it is important to make an appointment with an experienced Orthopaedic foot & ankle specialist who can evaluate your symptoms and overall health and explain the best options for your unique situation.
Where Can I Turn For The Help I Need?
If you are looking for expert evaluation and treatment of your Achilles tendonitis, Rothman Orthopaedic Institute can help. Our foot & ankle specialists have advanced knowledge and experience in this area of orthopaedics and are familiar with a full range of research-tested treatment options.
To learn more about our foot & ankle specialists or to make an appointment for Achilles tendonitis treatment, please contact us today at 1.800.321.9999.