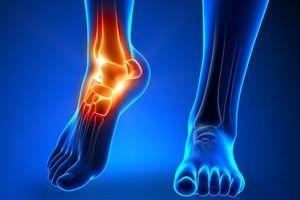 Have you, or has someone you love, been suffering from the pain of Achilles tendonitis? This condition can affect almost anyone. When it does, the experience of pain and swelling behind the ankle or ankles often inspires a number of questions in patients, from what treatment options are to where has the best Achilles pain tendonitis physicians in the area.
At Rothman Orthopaedic Institute, we are familiar with all of the questions which come along with this condition. We also know that although answers do not immediately resolve the problem of Achilles tendonitis, they do empower patients to take the necessary steps toward treatment and recovery. We have taken the time to answer the most common questions about Achilles tendonitis for the benefit of patients and their loved ones.
What Is Achilles Tendonitis?
Achilles tendonitis refers to the inflammation and irritation of the Achilles tendon, a strong, fibrous cord that connects the muscles in the back of your calf to your heel bone. This is the tendon that is responsible for your ability to push off of the ankle. Typically, patients with this condition experience symptoms which include pain and swelling in the heel, as well as tightness or a limited range of motion when flexing. These symptoms typically get worse for patients after physical activity, including walking or running. Sometimes, these symptoms can also lead to a series of tears in the tendon, putting it at risk for a rupture. Achilles tendonitis is considered an overuse injury, and is fairly common, especially among middle-aged recreational athletes.
How Is Achilles Tendonitis Different From A Tendon Rupture?
Many patients may be aware that there is a connection between Achilles tendonitis and a potential rupture of the Achilles tendon. Often, this can occur from a sudden jump or planting of the foot; however, chronic tendonitis can also be instrumental in such an injury. Patients who have experienced a rupture will typically include symptoms including heel pain, and the sensation of a "pop" or "explosion" in the heel at the time of injury. Typically, the injury is followed by swelling, and weakness in the foot.
Addressing the symptoms of Achilles tendonitis early on is one of the best ways to avoid a potential rupture. Additionally, adequately stretching prior to physical activity can help to promote the health and flexibility of the heel.
How Is Achilles Tendonitis Treated?
In most cases, Achilles tendonitis can be treated non-operatively. Common treatment options include:
Rest
Immobilization
Ice
Anti-inflammatory Medications
Physical Therapy
However, before beginning any of these treatment options, it is important to figure out where has the best Achilles pain tendonitis physicians in your area and to make an appointment with a specialist. Your doctor will be able to guide you to the best treatment option for your condition.

Where Has The Best Achilles Pain Tendonitis Physicians?
After patients have been diagnosed with this condition, a common question is Where has the best Achilles pain tendonitis physicians? For those who live in the Philadelphia or South Jersey areas, Rothman Orthopaedic Institute is an excellent option. As a leader in the orthopaedic industry, our doctors and surgeons are experts in the industry. Each member of our team has specialized in a particular area of orthopaedics, allowing them to gain advanced experience in even the most recent, research-based practices.
This means that when you come to Rothman Orthopaedic Institute for treatment of Achilles tendonitis, you will be treated by an Orthopaedic foot & ankle specialist who has specialized in orthopaedics of the foot and ankle. This focus ensures that you will receive the highest quality of care every step of the way. To learn more about Rothman Orthopaedic Institute or to make an appointment, please contact us today at 800.321.9999.
Related Specialties
Related Physicians
All Specialties
Hip
Knee
Spine
Sports Medicine
Shoulder & Elbow
Foot & Ankle
Hand & Wrist
Physical Medicine & Rehabilitation
Orthopaedic Oncology
Orthopaedic Trauma & Fracture Care
General Orthopaedics
Physician Language
All Languages
Spanish
English
Persian
Korean
Arabic
Italian
Swedish
Chinese
German
Hindi
Gujarati
Punjabi
Turkish
Tamil
Telugu
Filter Physicians
Filter
Sort
All Specialties
Hip
Knee
Spine
Sports Medicine
Shoulder & Elbow
Foot & Ankle
Hand & Wrist
Physical Medicine & Rehabilitation
Orthopaedic Oncology
Orthopaedic Trauma & Fracture Care
General Orthopaedics
All Languages
Spanish
English
Persian
Korean
Arabic
Italian
Swedish
Chinese
German
Hindi
Gujarati
Punjabi
Turkish
Tamil
Telugu
Greater Philadelphia
All Locations

{{item.title}}

{{distanceText(item)}}