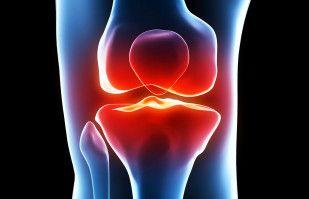 Have you experienced severe pain in both of your knees? Does the pain and stiffness of arthritis keep you from doing the things you love? Is it beginning to interfere with even simple actions like standing or walking? If this pain and limitation has been your experience, it may be time to consider bilateral total knee replacement, or arthroplasty. To understand how this procedure may be helpful to you, begin by getting the facts from the bilateral total knee arthroplasty physicians at Rothman Orthopaedic Institute today.
What Is Bilateral Total Knee Arthroplasty?
Bilateral total knee arthroplasty is the replacement of the joint in both of a patient's knees. This double knee replacement begins with the removal of the arthritic ends of the bones which meet in your knee joint, the femur (thigh bone) and the tibia (shin). The surfaces of these bones is shaved off and replaced with new metal and plastic ends. These replacement pieces, called prostheses, are securely attached to the remaining bones, allowing them to recreate the normal function of a healthy knee. This procedure not only helps to restore mobility, but it also significantly relieves pain and may even help to straighten limbs that may have been deformed through arthritis or injury.
Who Needs Bilateral Total Knee Arthroplasty?
Bilateral total knee arthroplasty is a great option for individuals who are suffering severe, ongoing pain due to arthritis in both of their knees. Typically, double knee replacement becomes one of the best possible treatments if the patient is experiencing equal symptoms in both knees and if these symptoms have begun to interfere with daily activities like walking or standing. This highly effective procedure can significantly reduce the pain of arthritis and also improve the patient's overall quality of life.
Should the Procedure Be Staged or Simultaneous?
When a patient begins to talk to bilateral total knee arthroplasty physicians about having this procedure done, one of the first questions to be addressed is whether it will be simultaneous or staged.
A simultaneous total knee replacement has the advantage of occurring as a single, surgical event. So, the patient only has to undergo anesthesia and a stay at the hospital once. Additionally, rehabilitation can be approached symmetrically. However, there are increased risks to replacing both knees simultaneously. Not only does it place a higher stress on the cardiovascular system, but it also makes initial rehabilitation somewhat more difficult. Nevertheless, for patients in good health, it may be a good option.
Staged total knee replacement, on the other hand, is a lower stress procedure for the patient's cardiovascular system. So, if a patient has cardiac, vascular, or pulmonary diseases, or if they are over 80 years of age, this may be the best option. However, the drawbacks for doing each knee separately are that two hospital stays, anesthesias, and rehabilitation periods are required.
Where Can I Find the Best Bilateral Total Knee Arthroplasty Physicians?
For patients living in the Philadelphia or Southern New Jersey area, the best bilateral total knee arthroplasty physicians are found nearby at Rothman Orthopaedic Institute. Because our knee specialists focus exclusively on this area of orthopaedics, they bring an advanced level of expertise to each joint replacement surgery. Their in-depth experience and specialized study allow them the extensive knowledge of knee conditions and treatments that you need in a knee replacement physician. In addition to clinical expertise, each and every one of our physicians also brings the greatest level of compassionate care to each patient.
Beyond our expert physicians, Rothman Orthopaedic Institute has even more to offer patients. As an internationally recognized leader in research, we offer the latest advances in technology and procedures. To learn more about the advantages of having your bilateral total knee replacement at Rothman Orthopaedic Institute, contact us today.
Related Specialties