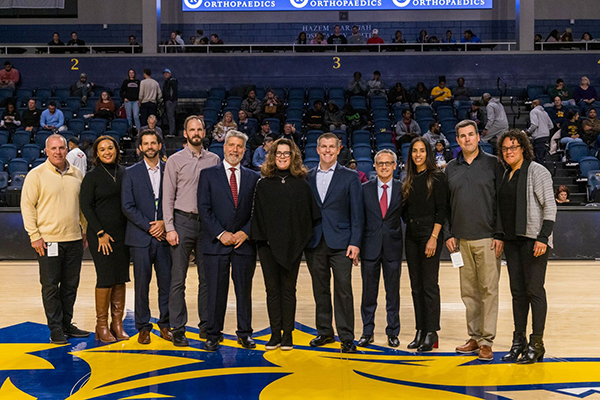 Drexel Athletics and Rothman Orthopaedic Institute have announced a multi-year partnership that will begin this season. Rothman Orthopaedics will become the Official Orthopaedic Partner of Drexel Athletics. Additionally, Rothman Orthopaedics will oversee Drexel's on-site clinic for student athletes.
"Drexel Athletics looks forward to the partnership with Rothman Orthopaedics," said Drexel University Director of Athletics Maisha Kelly. "The health and well-being of our student-athletes is our top priority. We are excited to provide our athletes access to Rothman's outstanding group of physicians and surgeons. Rothman's expertise and association with some of the areas top collegiate and professional sports organizations, elevates our commitment to student-athlete care."
"This partnership will be great for all parties involved, and we are thrilled to partner with Drexel University on providing high-quality orthopaedic care to their student-athletes," said Alexander R. Vaccaro, M.D., Ph.D., M.B.A, President of Rothman Orthopaedics, Richard H. Rothman Professor and Chairman of the Department of Orthopaedics, and Professor of Neurosurgery at Thomas Jefferson University and Hospitals. "Additionally, we look forward to educating the athletes on the latest evidence-based recommendations, prevention and treatment options which are essential for keeping all athletes safe."
The extended agreement between Rothman Orthopaedics and Drexel also includes a strong branding presence at the newly-renovated Daskalakis Athletic Center. Rothman Orthopaedics will receive prominent in-venue branding on Drexel's state-of-the-art video board for men's and women's basketball as well as wrestling.
Other key pieces of the agreement include sponsorship of Drexel's rivalry series against the University of Delaware. Rothman Orthopaedics will also be the presenting sponsor of annual esports tournament on campus and will have significant exposure across all Drexel Athletics channels including digital, broadcast, multimedia, rec, and intramurals.