ORLANDO, FL, March 14, 2023 —Rothman Orthopaedics, a global leader in musculoskeletal care and the largest private practice in the U.S., has been named "The Official Orthopedic Team Physicians of the Orlando Guardians" in addition to having a marketing partnership with the team in the Guardians inaugural season. Dr. Daryl Osbahr, Chief of Orthopaedic Surgery and Managing Partner for Rothman Orthopaedics Florida, and Dr. Michelle Mullins, Sports Medicine Physician, will serve as Head Orthopaedic Surgeon and Head Primary Care Team Physician, respectively.
"We've provided world-class care for professional athletes for over 30 years. A pillar of our practice is that athletes from the professional ranks to youth sports receive the highest-level of musculoskeletal care in order to maintain a trajectory of future success," said Alexander R. Vaccaro, MD, PhD, MBA, President of Rothman Orthopaedic Institute, Richard H. Rothman Professor and Chairman of the Department of Orthopaedics, and Professor of Neurosurgery at Thomas Jefferson University and Hospitals. "We are thrilled to work with the Guardians this season—our Florida team is dedicated to optimizing performance and managing players' health.
The Rothman team will provide sports medicine and athletic training sideline coverage during all home games, for Guardian players as well as concussion spotting responsibilities for both home and away sidelines. Rothman will also provide an X-ray technician during home games for imaging needs requested by the medical team. In a separate engagement, Rothman will receive in-stadium brand exposure, pregame activation opportunities and hospitality.
"The XFL is a new and exciting opportunity for all of us involved," said Dr. Osbahr. "We are ecstatic to formalize this winning partnership with the Guardians and implement the same excellent care to their organization as the Orlando community has grown to expect from us since our expansion to the market in 2021."
Dr. Osbahr specializes in Orthopaedic Sports Medicine and is actively involved in surgical, clinical and basic science research. In addition to his role at Rothman, he serves as the Medical Director for Orthopaedic Sports Medicine and Executive Medical Director for the AdventHealth Orthopedic Institute. He is also the Co-Chief Medical Officer for USA Baseball and Team Physician for the US Soccer Men's National Team. He previously served as the Medical Director and Head Orthopaedic Team Physician of the Orlando City Soccer Club, Orlando SeaWolves, Arnold Palmer Invitational and Seminole State College.
Dr. Mullins is a fellowship-trained Primary Care Sports Medicine physician with a special interest in injury prevention, overuse injuries, concussion, and bone stress injury management. She currently serves as the team physician for Orangewood Christian School and has previously assisted with medical coverage for Georgia Tech Athletics, Atlanta Hawks, Atlanta Dream, Fan Controlled Football League, UTR Pro Tennis Tour, NSAF Outdoor Nationals and the Atlanta Marathon.
"The Orlando Guardians are thrilled to partner with Rothman Orthopaedics," said Erica Muhleman, XFL Chief Revenue Officer. "The health and well-being of our team is our highest priority, and having a first-class partner as the team's Official Orthopedic Physicians shows that commitment to our players."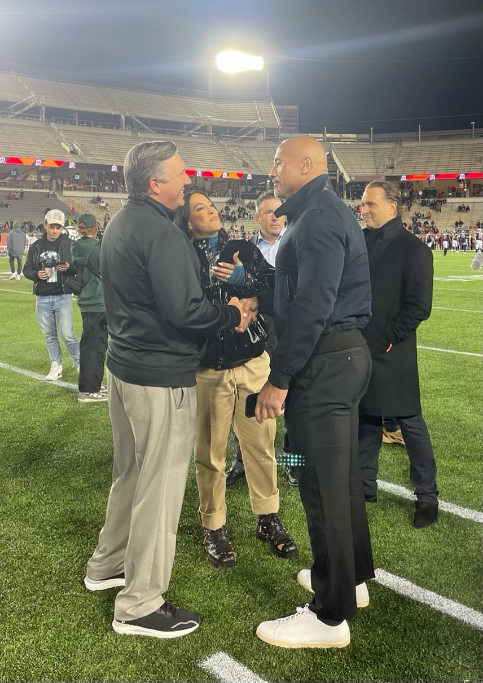 Dr. Osbahr with Dwayne "The Rock" Johnson and Dany Garcia