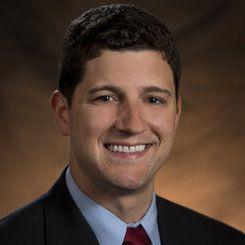 John R. Luksch, D.O.
Dr. Luksch is a board certified, fellowship trained Primary Care Sports Medicine physician who specializes in the treatment of musculoskeletal injuries in athletes. His clinical interests include overuse injuries in young athletes, sports-related concussion, musculoskeletal ultrasound, nonsurgical treatment of chronic injuries, and injury prevention.
During his fellowship, Dr. Luksch served as a team physician for several high school, college and professional teams, including the Philadelphia Union of Major League Soccer. He is a published physician with numerous professional memberships focused on Sports Medicine. Dr. Luksch is focused on helping patients manage their acute and chronic injuries so they may maintain active and healthy lifestyles.
Professional Profile
Education
Titles & Certifications
Professional Associations
Education
B.S., Biology, Loyola College, Baltimore, MD
D.O., Nova Southeastern University College of Osteopathic Medicine, Fort Lauderdale, FL
Residency, Family Practice and Osteopathic Manipulative Therapy, Rowan University School of Osteopathic Medicine, Stratford, NJ
Fellowship, Primary Care Sports Medicine, Crozer-Keystone Health System, Springfield, PA
Titles & Certifications
Board Certified, American Osteopathic Board of Family Physicians
Professional Associations
American College of Sports Medicine
American Medical Society for Sports Medicine
American Academy of Family Physicians
American Osteopathic Academy of Sports Medicine
Sigma Sigma Phi Honor Society
American Osteopathic Association
American College of Osteopathic Family Physicians
Education
B.S., Biology, Loyola College, Baltimore, MD
D.O., Nova Southeastern University College of Osteopathic Medicine, Fort Lauderdale, FL
Residency, Family Practice and Osteopathic Manipulative Therapy, Rowan University School of Osteopathic Medicine, Stratford, NJ
Fellowship, Primary Care Sports Medicine, Crozer-Keystone Health System, Springfield, PA
Titles & Certifications
Board Certified, American Osteopathic Board of Family Physicians
Professional Associations
American College of Sports Medicine
American Medical Society for Sports Medicine
American Academy of Family Physicians
American Osteopathic Academy of Sports Medicine
Sigma Sigma Phi Honor Society
American Osteopathic Association
American College of Osteopathic Family Physicians
Centers of Excellence