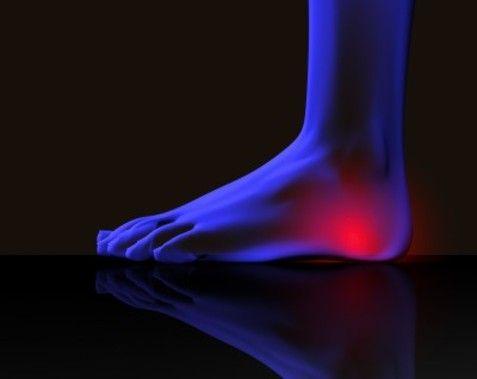 Looking For Heel Spurs Physicians?
Over the course of a lifetime, the average person walks more than 100,000 miles. And, for each mile you walk, an average of 60 tons of stress is placed on each foot! Although your feet are tough and can handle a heavy load, you may be pushing that stress past their normal limits. Playing sports on hard surfaces or frequently wearing improperly fitted or unsupportive shoes can lead to heel pain. Although this pain may clear up on its own, ignoring this telling symptom may leave you needing to look for
heel spurs physicians
to help with a more problematic condition.
If you have recurring pain beneath your heel, as compared to behind the heel, you may be dealing with plantar fasciitis or even heel spurs. These two conditions are connected; untreated plantar fasciitis which continues for a long time can lead to the development of a painful heel spur. This is why, at
Rothman Orthopaedic Institute
, we recommend seeking a medical evaluation early on if you develop persistent heel pain. If you already have an appointment with us, you can read on for more information about conditions affecting the heel and where to find plantar fasciitis and heel spurs physicians.
What Is Plantar Fasciitis?
Plantar fasciitis refers to a condition which causes pain beneath the heel and the arch of the foot. Also known as subcalcaneal pain, this condition often develops after too much running or jumping has inflamed the tissue band, called the fascia, which connects the heel bone to the base of the toes. Such inflammation and stretching can also result from a condition known as flat feet.
Typical symptoms include pain that is centered under your heel which may start out mildly but then intensifies when you begin to walk after a period of resting.
What are Heel Spurs and How Do They Develop?
If the strain on the plantar fascia continues for a longer period of time and goes untreated, a heel spur may occur. A heel spur is a calcium deposit which forms where the fascia tissue band connects to the heel bone. If a spur develops, it is important to seek diagnosis and treatment from a doctor right away.
Symptoms of heel spurs are similar to those of plantar fasciitis, including pain centered under the heel that intensifies after a long period of rest, such as after a full night's sleep.
How Is Heel Pain Treated?
When you seek out treatment from plantar fasciitis or heel spurs physicians, they will typically begin with a physical exam and discuss your symptoms. They may also take an x-ray in order to confirm the heel spur.
Once your condition is diagnosed, your doctor will recommend a course of treatment based on numerous factors. In many cases, you may need to do special exercises, take medication to reduce swelling, and wear a heel pad in your shoe.
Where Do I Find Experienced Heel Spurs Physicians?
If you, or if someone you love, suffers from heel pain caused by plantar fasciitis, it is important to seek out specialists who can help. Look for physicians who specialize in this particular area of orthopaedics, as they can provide the highest level of care.
If you live in or around the South Jersey or Philadelphia area, the best heel spurs physicians are available at a nearby Rothman Orthopaedic Institute location. Our team of foot and ankle specialists have the expertise and the experience you need, as well as access to the latest science and technology.
For more information, or to schedule an appointment, contact us today at 1.800.321.9999.
Related Specialties
Related Physicians
All Specialties
Hip
Knee
Spine
Sports Medicine
Shoulder & Elbow
Foot & Ankle
Hand & Wrist
Physical Medicine & Rehabilitation
Orthopaedic Oncology
Orthopaedic Trauma & Fracture Care
General Orthopaedics
Physician Language
All Languages
Spanish
English
Persian
Korean
Arabic
Italian
Swedish
Chinese
German
Hindi
Gujarati
Punjabi
Turkish
Tamil
Filter Physicians
Filter
Sort
All Specialties
Hip
Knee
Spine
Sports Medicine
Shoulder & Elbow
Foot & Ankle
Hand & Wrist
Physical Medicine & Rehabilitation
Orthopaedic Oncology
Orthopaedic Trauma & Fracture Care
General Orthopaedics
All Languages
Spanish
English
Persian
Korean
Arabic
Italian
Swedish
Chinese
German
Hindi
Gujarati
Punjabi
Turkish
Tamil
Greater Philadelphia
All Locations

{{item.title}}

{{distanceText(item)}}