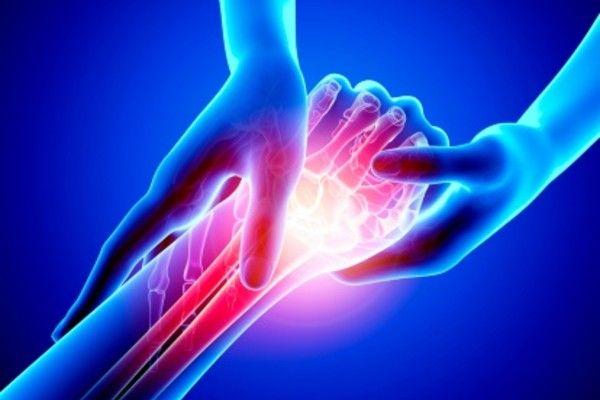 The spinal vertebrae, the hips and the wrists are among the most commonly fractured bones in the human body. And when a break occurs in one of these bones, the injury should be addressed by a highly trained and specialized orthopedic doctor.
The musculoskeletal system is extensive, containing all of the body's bones, muscles, ligaments, joints and cartilage. No one can be an expert on every aspect of this system, which is why orthopedic physicians divide their specializations up into certain parts of the body. If you or someone you love has suffered a wrist injury, you you'll want to know where to find the area's best distal radial fracture physicians.
Distal Radial Fracture Physicians at Rothman Orthopaedic Institute
Here at Rothman Orthopaedic Institute, our team of
hand and wrist subspecialty physicians
will know exactly what to look for and how to determine the best treatment option for your specific case. They'll assess criteria such as your age and activity level, your bone density and the
location and severity
of the break.
After a physical examination and x-rays, your
distal radial fracture
physicians will know whether your injury falls into any of the following categories:
Intra-articular fracture: one that extends into the wrist joint
Extra-articular fracture: one that does not extend into the wrist
Open fracture: occurs when the bone breaks the skin (because of the risk of infection, these kind of fractures are considered an emergency and should be surgically repaired within eight hours)
Comminuted fracture: describes a fracture where the bone is broken into more than two pieces
Displaced fracture: occurs when there is a gap between the broken pieces, preventing them from lining up straight
No one wishes for a wrist injury, but if it happens to you, the good news is that you have world-renowned distal radial fracture physicians right around the corner. Did you know that there are over 20 regional locations of Rothman Orthopaedic Institute in the Delaware Valley area? That means that wherever you are located throughout the greater Philadelphia area, southern New Jersey or even into Delaware, there is a Rothman Orthopaedic Institute branch nearby!
Treatment Options
When surgical or nonoperative, the ultimate goal of any treatment is twofold. First, the surgeon will work to restore the proper alignment of the bones and second, he or she will help the patient recovery properly in order to regain strength and stability in the wrist. This requires immobilization for a period of time while the replaced bone heals.
Closed reduction and casting are examples of more conservative approaches to treatment that are usually sufficient for a mild injury - a one location break with no deformity. However, if a nonoperative approach is insufficient,
your physician may recommend surgery
.
Distal Radial Fracture Physicians Offer Tips on Preventing Injury
A simple fall is the most commonly cited reason for this kind of injury. Especially in women over the age of 50, the onset of osteoarthritis can occur without any warning and a broken wrist is often the first sign of its presence in the bones. But it's not just patients with bone density problems that experience fractured radius injuries. In the points below, you'll find general guidelines that can help anyone prevent a future wrist injury.
A broken wrist can happen even in dense, healthy bones if the force of the trauma is severe enough (for example, a fall off of a dirt bike). If you are planning to participate in an extreme sport, plan to wear wrist guards may help to soften the blow to the wrist should a fall occur.
Simple diet and supplementation can make a big difference in preventing the onset of osteoarthritis. Be sure to get plenty of Calcium each day (1,000 - 1,200 mg are recommended) and remember that vitamin D is required for Calcium to be properly absorbed by the body. A supplement may be helpful, especially during colder months when you are not getting as much vitamin D from sunlight. It is recommended that you get 600-800 international units per day.
Lifestyle adjustments are some of the easiest changes to make in order to prevent future injuries of all kinds, including wrist fractures. Talk to your doctor about achieving and maintaining a healthy weight, make a plan to quit smoking and create time in your schedule every day for at least 15-20 minutes of exercise.
Related Specialties
Related Physicians
All Specialties
Hip
Knee
Spine
Sports Medicine
Shoulder & Elbow
Foot & Ankle
Hand & Wrist
Physical Medicine & Rehabilitation
Orthopaedic Oncology
Orthopaedic Trauma & Fracture Care
General Orthopaedics
Physician Language
All Languages
Spanish
English
Persian
Korean
Arabic
Italian
Swedish
Chinese
German
Hindi
Gujarati
Punjabi
Turkish
Tamil
Telugu
Filter Physicians
Filter
Sort
All Specialties
Hip
Knee
Spine
Sports Medicine
Shoulder & Elbow
Foot & Ankle
Hand & Wrist
Physical Medicine & Rehabilitation
Orthopaedic Oncology
Orthopaedic Trauma & Fracture Care
General Orthopaedics
All Languages
Spanish
English
Persian
Korean
Arabic
Italian
Swedish
Chinese
German
Hindi
Gujarati
Punjabi
Turkish
Tamil
Telugu
Greater Philadelphia
All Locations

{{item.title}}

{{distanceText(item)}}