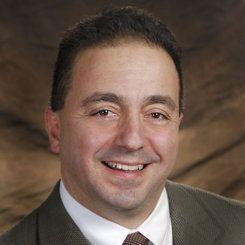 Pedro K. Beredjiklian, MD, Senior Vice President
Dr. Beredjiklian is the Senior Vice President of Clinical Affairs for Rothman Orthopaedic Institute. In addition, he serves as Chief of the Hand Service of Rothman Orthopaedic Institute and is a Professor of Orthopaedic Surgery at the Sidney Kimmel Medical College of Thomas Jefferson University. He is also on the Board of Directors of Rothman Orthopaedic Institute.
Dr. Beredjiklian graduated from Haverford College with honors and a degree in Chemistry. He obtained his Medical Degree from the College of Physicians & Surgeons of Columbia University having received numerous academic achievement awards. He completed an Orthopedic Surgery residency at the University of Pennsylvania and a fellowship in Hand and Microvascular surgery at the Hospital for Special Surgery. He is board certified in Orthopaedic Surgery and has earned a Certificate for Added Qualification for Surgery of the Hand.
Dr. Beredjiklian maintains a full clinical practice and an active academic and teaching schedule. He has 20 years of experience in hand and wrist surgery. He participates in several regional and national orthopaedic societies and serves in various committee and leadership positions. He serves on the editorial board of several peer-reviewed orthopaedic journals including Clinical Orthopaedics and Related Research and the Journal of Hand Surgery.
He has presented over 300 lectures nationally and internationally and is the author of over 200 scientific articles. He has served as the chief editor of 5 orthopaedic textbooks. He has an active interest in basic science research focusing on the modulation of scar formation after injury and surgery. This research has been funded by prestigious grants from the American Foundation of Hand Surgery, the Department of Defense, and the National Institutes of Health.
His passion for teaching up and coming orthopaedic surgeons has been acknowledged with teaching awards for several residency programs and leads the Hand Surgery Section for the national Board Review and Preparation Course for the American Academy of Orthopaedic Surgeons. He has also received the Patients' Choice Award and is named in Castle Connolly's American Top Doctors as well as in the Top Doc edition of Philadelphia Magazine and other regional publications.
Professional Profile
Education
Titles & Certifications
Professional Associations
Education
B.S., Chemistry, Haverford College
M.D., Columbia University College of Physicians and Surgeons
Orthopaedic Surgery Residency, University of Pennsylvania
Fellowship, Hand and Microvascular Surgery, Hospital for Special Surgery, Cornell Medical Center
Titles & Certifications
Senior Vice President of Clinical Affairs, Rothman Orthopaedic Institute
Professor of Orthopaedic Surgery, Thomas Jefferson University Hospital
Chief of Hand Surgery, Rothman Orthopaedic Institute
Board Certified, Orthopaedic Surgery
Professional Associations
American Academy of Orthopaedic Surgeons
Association of Bone and Joint Surgeons
American Orthopaedic Association
American Society for Surgery of the Hand
Education
B.S., Chemistry, Haverford College
M.D., Columbia University College of Physicians and Surgeons
Orthopaedic Surgery Residency, University of Pennsylvania
Fellowship, Hand and Microvascular Surgery, Hospital for Special Surgery, Cornell Medical Center
Titles & Certifications
Senior Vice President of Clinical Affairs, Rothman Orthopaedic Institute
Professor of Orthopaedic Surgery, Thomas Jefferson University Hospital
Chief of Hand Surgery, Rothman Orthopaedic Institute
Board Certified, Orthopaedic Surgery
Professional Associations
American Academy of Orthopaedic Surgeons
Association of Bone and Joint Surgeons
American Orthopaedic Association
American Society for Surgery of the Hand
Stories Related to Pedro K. Beredjiklian, MD, Senior Vice President