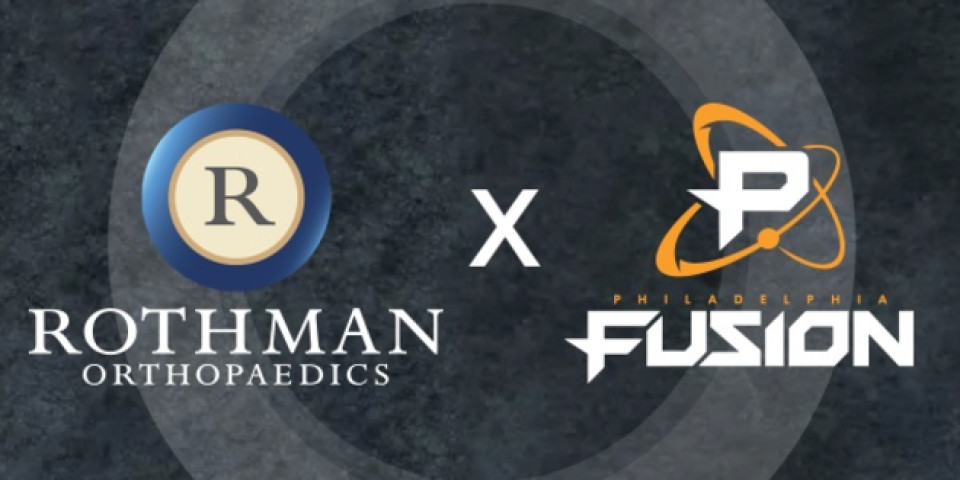 Rothman Orthopaedic Institute Named Official Orthopaedic Partner of Overwatch League's Philadelphia Fusion
The Professional Esports Organization is One of Four Professional Teams in the
Greater Philadelphia Area to Partner with Rothman Orthopaedics
PHILADELPHIA (Feb. 11, 2020) – The Philadelphia Fusion, the city's first professional esports team, today announced Rothman Orthopaedic Institute, a world leader in orthopaedic care, as the team's official medical provider and Fusion Arena sponsor. The five-year deal further cements Rothman Orthopaedics' commitment to the growing esports landscape and the overall wellbeing of its athletes. The Fusion join the Phillies, Sixers and Eagles as the fourth Philadelphia-based professional team to partner with Rothman Orthopaedics.
To view and/or download a graphic supporting this announcement, click here.
"To be competitive at the highest level of esports, our players need to maintain a healthy lifestyle and prevent injury wherever possible," said Tucker Roberts, President of Spectacor Gaming and Philadelphia Fusion. "Our partnership with Rothman Orthopaedics provides our players with the best medical treatment and helps them optimize their performance."
Under the agreement, Rothman Orthopaedics will be the exclusive medical provider for Philadelphia Fusion players under the care of a team of dedicated team physicians, which includes sports medicine physicians Dr. Bradley Smith, Dr. Edward Rosero and Dr. Robert Franks,
"We feel it is important that esports athletes receive the same high-level musculoskeletal care that athletes receive in any other professional sport in order to maintain a trajectory of future success," said Alexander R. Vaccaro, MD, PhD, MBA, President of Rothman Orthopaedic Institute, Richard H. Rothman Professor and Chairman of the Department of Orthopaedics, and Professor of Neurosurgery at Thomas Jefferson University and Hospitals. "Together, we will work to prevent injury throughout the year, optimize performance and manage players' health."
Upon completion of Fusion Arena, where the Fusion will play all of their home matches beginning in 2021, Rothman Orthopaedics signage will be featured throughout the arena. Rothman Orthopaedics will also sponsor the "Hometown Hero Award," presented to a local service member at all home matches.
Last week, Rothman Orthopaedics announced a partnership with Nerd Street Gamers, the national network of esports facilities and events, to promote gamers' health. Rothman Orthopaedics will sponsor their Summer Camp series, and host seminars in the Philadelphia area on gamer health with their team of physicians.
Related Physicians
All Specialties
Hip
Knee
Spine
Sports Medicine
Shoulder & Elbow
Foot & Ankle
Hand & Wrist
Physical Medicine & Rehabilitation
Orthopaedic Oncology
Orthopaedic Trauma & Fracture Care
General Orthopaedics
Physician Language
All Languages
Spanish
English
Persian
Korean
Arabic
Italian
Swedish
Chinese
German
Hindi
Gujarati
Turkish
Tamil
Mandarin
Taiwanese
Telugu
Punjabi
Filter Physicians
Filter
Sort
All Specialties
Hip
Knee
Spine
Sports Medicine
Shoulder & Elbow
Foot & Ankle
Hand & Wrist
Physical Medicine & Rehabilitation
Orthopaedic Oncology
Orthopaedic Trauma & Fracture Care
General Orthopaedics
All Languages
Spanish
English
Persian
Korean
Arabic
Italian
Swedish
Chinese
German
Hindi
Gujarati
Turkish
Tamil
Mandarin
Taiwanese
Telugu
Punjabi
Greater Philadelphia

Greater Philadelphia

Greater Philadelphia
All Locations

{{item.title}}

{{distanceText(item)}}