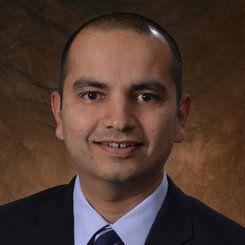 Dr. Shyam Brahmabhatt is board certified in Orthopaedic Surgery. He specializes in arthroscopic surgery of the shoulder, knee, and hip as well as knee and shoulder replacement surgery.

Dr. Brahmabhatt graduated from Temple University School of Medicine, followed by Orthopaedic Surgery residency at Temple University Hospital. He completed a fellowship in Sports Medicine at Lenox Hill Hospital in New York City where he served as the Assistant Team Physician for the New York Jets.

His clinical interests include complex injuries of the knee and shoulder such as meniscus surgery, ACL/PCL reconstruction, patellar instability, articular cartilage restoration, rotator cuff repair, and shoulder labral repair. He also specializes in hip arthroscopic surgery. In addition, he also performs knee and shoulder replacement surgery.

He serves as the Team Physician for Upper Dublin and Abington High Schools and Penn State Univ, Abington Campus.

He has been recognized as one of the areas "Top Doctors" in the Philadelphia Magazine.
Rothman Physician Spotlight – Shyam Brahmabhatt, MD
Office Locations
Surgical Locations
Professional Profile
Education
B.S., Temple University
M.D., Temple University School of Medicine
Residency, Orthopaedic Surgery, Temple University Hospital
Fellowship, Sports Medicine, Lenox Hill Hospital
Titles & Certifications
Board Certified, American Board of Orthopaedic Surgery
Team Physician, Upper Dublin and Abington High Schools
Hospital Affiliations
Abington Hospital – Jefferson Health
New Britain Surgery Center
Professional Associations
Fellow, American Academy of Orthopaedic Surgeons
Pennsylvania Orthopaedic Society
John Lachman Society
Physician Assistants
All Specialties
Hip
Knee
Spine
Sports Medicine
Shoulder & Elbow
Foot & Ankle
Hand & Wrist
Physical Medicine & Rehabilitation
Orthopaedic Oncology
Orthopaedic Trauma & Fracture Care
General Orthopaedics
Filter Physicians
Filter
Sort
All Specialties
Hip
Knee
Spine
Sports Medicine
Shoulder & Elbow
Foot & Ankle
Hand & Wrist
Physical Medicine & Rehabilitation
Orthopaedic Oncology
Orthopaedic Trauma & Fracture Care
General Orthopaedics
All Locations

{{item.title}}

{{distanceText(item)}}
Related Programs
This is a center where patients can go to have their disabled joint biological resurfaced, realigned, and stabilized without having the joint replaced by artificial materials such as metal and plastic. It is well known that the outcomes of patients under the age of 50 undergoing artificial joint replacement are not as good as we would like. Therefore we feel the future of Orthopaedics is to try to restore a joint back to its original anatomy by realignment, ligament reconstruction, and cartilage restoration.

Read More

Rothman Orthopaedic Institute is one of the nation's leaders in the growing field of hip arthroscopy. Ours is the only Hip Arthroscopy Program in the Delaware Valley with experienced board certified surgeons in both New Jersey and Pennsylvania.

Read More